Mali graphics IP core shipments are on course to be more than 300 million units in 2013, more than doubling the 150 million units shipped in 2012, according to Simon Segars, CEO of processor IP licensor ARM Holdings plc.
Segars, speaking at his first financial results conference since taking over as CEO of ARM on July 1, told analysts that Mali year-to-date shipments were already ahead of the total achieved for 2012. A slide presentation indicates that the year-to-date figure is about 180 million Mali units shipped (see below). For ARM the second half of the year usually includes higher shipments and revenues, and particularly so in consumer-oriented ICs such as chips for smartphones, tablet computers, and televisions. As a result, ARM's Mali shipments in 2013 look set to be closer to 400 million units than 300 million.
In February 2013 ARM executives in the media processing division said that they expected Mali GPU shipments to exceed 240 million units, but pointed out that only about 25%t of Mali licensees had come to market at that time. In the absence of some global economic catastrophe in the second half, ARM looks set to easily exceed that figure in 2013.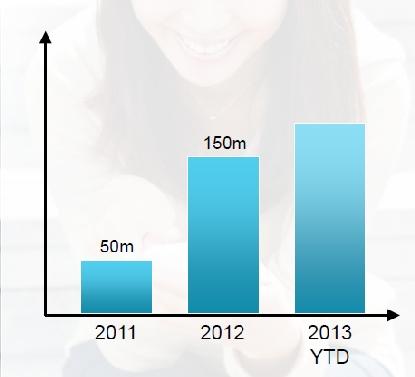 Segars also referenced a recent high-end design win for Mali with Samsung inside the Exynos 5 Octa and said that, while the market for premium smartphones grew 30% year-on-year in the second quarter, entry-level smartphones are driving shipments of both Correx-A series and Mali series cores.
Segars told EE Times there is no particular target for Mali shipments in 2013, but he thinks the product lineup is well placed to take market share. He also said that there was opportunity to persuade SoC companies with internal graphics development to change tack and start outsourcing. "It is the same argument as with processors. In graphics there is a need to support standards such as OpenCL and Renderscript. Companies always need to consider if they should outsource."
Qualcomm Inc., which includes internally developed graphics engines within its Snapdragon range of application processors, could be a target for ARM, Imagination, and